USGS researchers state that 2019 is a year considered nearly–normal concerning Atlantic hurricane season. This article will present a series of examples regarding registered hurricanes, and includes the link to a website where you can find a guide on how to prepare for the new season.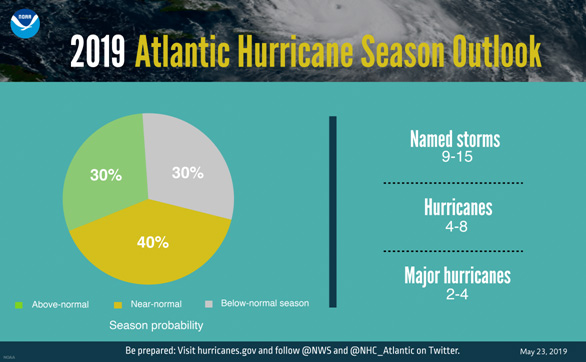 What is a hurricane?
A hurricane is a large disturbance that affects landscapes and coastal systems. The severity and regularity of their presence typically alter the structure and succession of coastal ecosystems. They are formed by an accumulation of electrical storms, which then travel to warmer waters. As this happens, the warm air combines with the ocean surface creating whirlpools, and leading opposite winds to collide making the storm spin. It strengthens due to the rotation of the earth in addition to the energy of the ocean's warm water, producing an increase of speed.
How to measure hurricane strength?
The Saffir-Simpson scale makes determining the level of danger and destruction caused by hurricanes possible. This scale does not only measure the capacity of the storm, but also establishes guidelines to protect the population.
Saffir-Simpson scale
Category
Speed (km/h)
Damage
1
119-153
Some damages and cuts of electricity
2
154-177
Big damages
3
178-208
Housing suffers serious damage
4
208-251
Housing suffers serious damage, trees can be brought down
5
252<
Housing get destroyed and roads suffer cracks
Differences between hurricanes, typhoons and cyclones
Hurricanes, typhoons and cyclones are the same in climatological terms. All of them represent a storm system, but their name depends on the location where they occur. When the storm is generated in the North Atlantic, Caribbean or Northeast of the Pacific it is called a hurricane. On the other hand, if it develops in the Indian Ocean or Southwest Pacific it is named a cyclone. Ultimately, if it emerges in the North-western Pacific the storm is known as a typhoon.
2018 Hurricane season
NOAA meteorologists had concerns and predicted a hurricane season almost equally strong to the one that occurred in 2017. However, in the last months of the year the storms dissipated and the alerts decreased.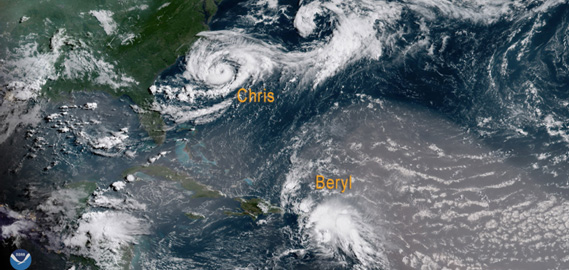 The probability of having a normal season corresponded to a 30 percent and the estimated possibility of having an above-normal season was of 35 percent, although after May these odds dropped to 10 percent. On November 30th the season concluded with a total of 9 to 13 named storms, of which 4 to 7 became hurricanes, but only one or two turned into major hurricanes. These primary hurricanes had winds of 178 km/h or more. NOAA predicted three major hurricanes that year. For entering the monitoring centre, click on the next link: https://www.nhc.noaa.gov/
The last hurricane known as Lane began on Saturday, August 18th, as a tropical storm. It had winds of 120 km/h and rapidly grew into a major hurricane, with winds greater than 180 km/h, as shown in the image below. It was predicted to dissipate within 3 days starting on August 25th.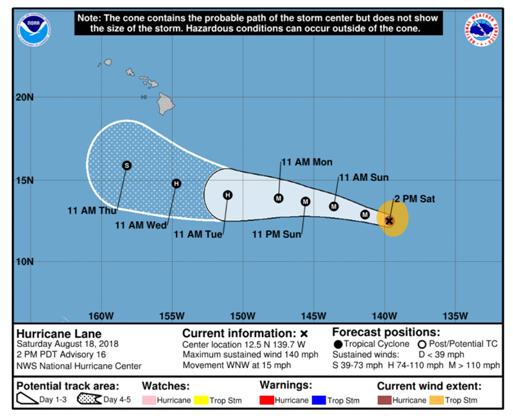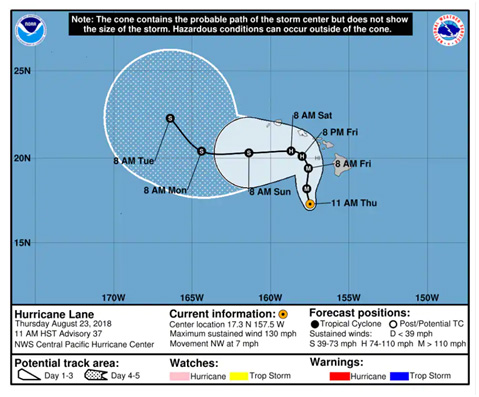 On August 23rd, category 5 hurricane Lane reached up to 100 km/h and was getting closer to the Hawaiian Islands, causing warnings all along. Even though the hurricane touched land briefly, the rain was critical. The torrential rainfalls exceeded 30 inches of water in some places, and battering waves up to 25 feet on the south side of the islands fell heavily on the land. On August 24th, the hurricane decreased from category 5 to 3, which is described as a tropical storm. During this period of time, it led to heavily floods and landslides. Some meteorologists in the area had warned the public, advising on expected floods primarily on the islands of Oahu and Maui. More than 60 cm of rain had fallen over a 36-hour period on the windward side of the Hawaiian Island, where the Meteorological Service reported "catastrophic floods" and Governor urged residents to avoid any unnecessary travel.
Several structures were destroyed in Hawaii and it was reported that some residents were fleeing their homes. Fire department personnel responded to emergency calls from people trapped by the flood on the island, most of them around the cities of Hilo, said Kelly Wooten spokeswoman for civil defence in the Hawaiian County. Fortunately, no important injuries were reported. Some pictures of the storm can be seen next.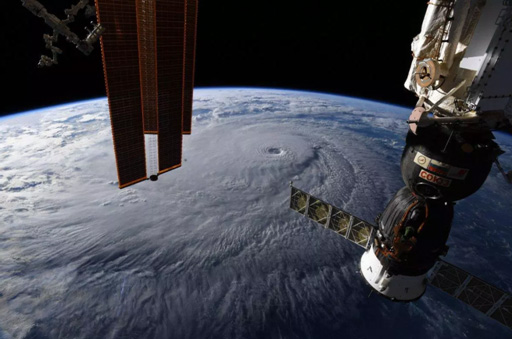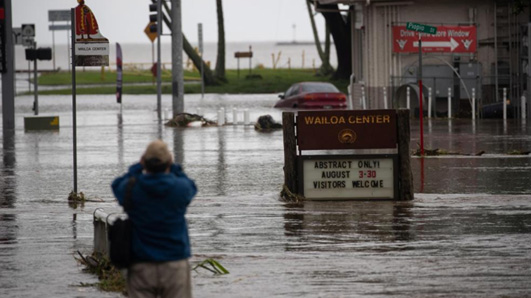 2019 Hurricane season
According to NOAA ́s Climate Prediction Centre service, the 2019 hurricane season extends from June 1st to November 30th. This season is divided into three possible forecasts: 40% of a nearly normal season, 30% of an above-normal season, and 30% of a below-normal season. NOAA predicted a range of 9 to 15 named storms with winds of 63 km/h, from which 4 to 8 can become hurricanes with winds of 120 km/h, and 2 to 4 can turn into major hurricanes ranging between categories 3 to 5. This assortment provided by NOAA has 70% confidence.
The continuing El Niño is predicted to remain and counteract the effects of the hurricane season. Opposing El Niño is the expected sequence "of warmer than average sea surface temperatures in the tropical Atlantic Ocean and Caribbean Sea, and an enhanced west African monsoon" (NOAA, 2019), which favour intensified hurricane activity.
The 2019 hurricane season is the first time NOAA ́s fleet of earth–observing satellites will have three operational next generation satellites. These satellites will provide unique and precise data for more accurate forecast models, useful in decision-making.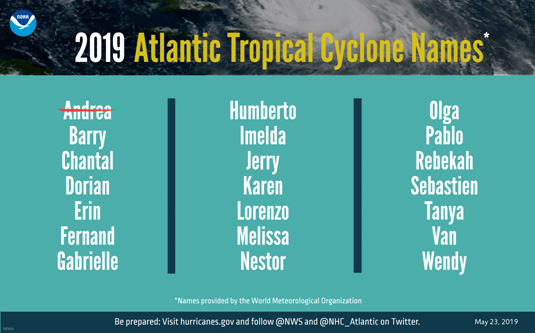 NOAA's research doesn't stop in the Atlantic as it extends to the eastern and central Pacific basins. There is a 70% probability of an above-normal season for the two central and eastern Pacific zones. The forecast for the eastern Pacific has a 70% possibility of 15 to 22 named storms, of which 8 to 13 are suspected to become hurricanes and 4 to 8 major hurricanes. For the central Pacific the overview presents a 70% chance of 5 to 8 tropical cyclones, including tropical depressions, tropical storms and hurricanes.
How to prepare for a hurricane?
Even though this is not going to be a year of extreme concern, preparation is always essential for saving lives. In the next link, there is a detailed guide on how to protect yourself in case of a hurricane warning.
https://www.ready.gov/hurricanes
References:
https://www.usgs.gov/centers/pwrc/science/hurricanes?qt-science_center_objects=0#qt-science_center_objects
https://www.bbc.com/mundo/noticias-45284805
https://www.bbc.com/mundo/noticias-42523336
https://www.nationalgeographic.es/medio-ambiente/las-diferencias-entre-un-huracan-un-tifon-y-un-ciclon
https://www.usgs.gov/ecosystems/environments-program/science/hurricanes?qt-science_center_objects=0#qt-science_center_objects
https://www.nhc.noaa.gov/data/tcr/AL092017_Harvey.pdf
https://www.youtube.com/watch?v=1-S6zfW2Yo8
https://www.nhc.noaa.gov/aboutnhcprod.shtml#TWO
http://www.noaa.gov/media-release/noaa-forecasters-lower-atlantic-hurricane-season-prediction
https://www.lavanguardia.com/internacional/20180825/451436905949/huracan-lane-hawai.html
https://qz.com/1367769/pictures-hurricane-lane-from-space-as-it-approaches-hawaii/
https://www.ready.gov/hurricanes
https://www.nytimes.com/2018/08/25/us/hawaii-hurricane-lane-tropical-storm.html
https://www.washingtonpost.com/news/capital-weather-gang/wp/2018/08/23/hurricane-lane-edges-closer-to-hawaii-unleashing-tremendous-rainfall-and-flooding/?noredirect=on&utm_term=.204ef3f9ae39
https://www.noaa.gov/media-release/destructive-2018-atlantic-hurricane-season-draws-to-end
https://www.noaa.gov/media-release/noaa-predicts-near-normal-2019-atlantic-hurricane-season
https://www.nhc.noaa.gov/graphics_ep4.shtml?cone
▪ ▪ ▪
Related content:
| | |
| --- | --- |
| | Dr. Gerry Bell, lead seasonal hurricane forecaster at NOAA's Climate Prediction Center, and the rest of his team NOAA, are predicting a 40 percent chance that the 2019 Atlantic hurricane season will be near-normal. |